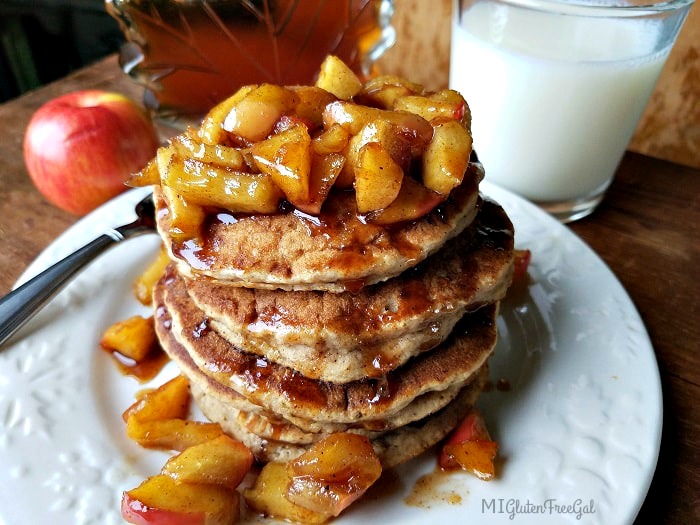 We love pancakes in this house. They have become a weekly tradition, a no-thought, go-to every Saturday morning. For years my husband has been the pancake maker. Because I make his breakfast every Monday-Friday at 5 am in the morning, I gladly appreciate his flapjack skills. Sometimes though, I get the hankering for something a bit fancier. That's when I came up with these apple pie buttermilk pancakes.
I'm a big fan of
Bob's Red Mill
products. However, I feel that their gluten-free pancake mix fell flat....literally. I never got the rise out of them like I wanted. So, I've been experimenting with their newer
Gluten-Free 1-to-1 Baking Flour
. The trick to getting these to rise is the acidity of buttermilk with the leavening power of baking soda AND baking powder. But in all honesty, I almost never have buttermilk in the house. But, what I do find myself having often is soured milk. Not rotten with curds, but just past date and a tad bitter. In these apple pie buttermilk pancakes, the soured milk provides the fluffy pancakes I've been desiring!
My recipe for these apple pie buttermilk pancakes started with using the framework of "Applesauce Pancakes" from our 1974
Betty Crocker cookbook.
(Old cookbooks are always the best!) After all, if a flour says you can replace it cup for cup with wheat flour, a regular cookbook is a great place to (theoretically) find recipes. The recipe calls to sub some of the buttermilk for applesauce in the recipe. Coincidentally, applesauce is also acidic, which provides lift to baked goods
when combined with baking soda
.
When I originally wrote about these apple pie buttermilk pancakes back in 2015, I tried a different substitute for buttermilk.
Plain Greek yogurt and water. Just like in
my cornbread recipe
, bakers can swap 1/2 cup Greek yogurt + 1/2 cup water for 1 cup buttermilk. The cultures of the Greek yogurt mix with the other ingredients to produce a bit of fermentation and bubbles, a.k.a LIFT! If I'm out of soured milk, I'll definitely go back to this option. However, I think the soured milk is a better replacement.
Aside from the "buttermilk" substitute, the secret to super flavorful apple pie buttermilk pancakes are the spices. I mean what would apple pie be without the wonderful blend of cinnamon, nutmeg and cloves? These pancakes are delicious on their own, and even still amazingly flavorful eaten cold. In my opinion, to really take them up a notch, you should top them with a bit of
cooked apples
. The syrup created from the apple juices and the spices is absolutely divine!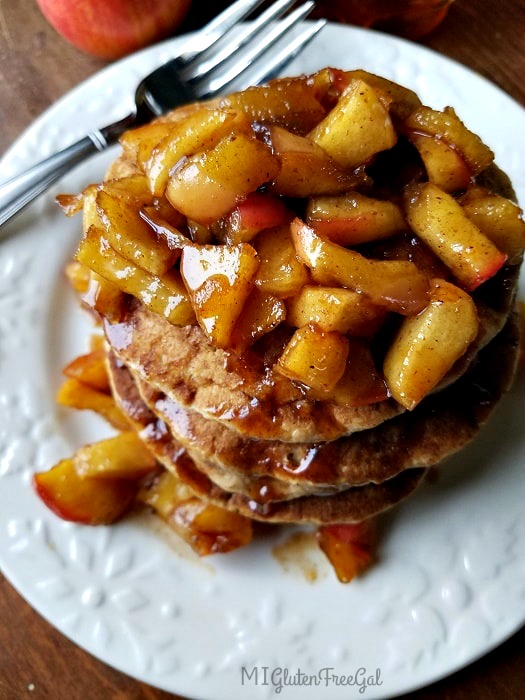 Gluten-Free Apple Pie Buttermilk Pancakes
Ingredients:
2 tbsp. butter, melted
1/2 cup soured milk (or buttermilk or blend of half Greek yogurt & water)
1/2 cup natural applesauce
5 oz.(1 cup) Bob's Red Mill Gluten-Free 1-to-1 Baking Flour
1 tbsp. sugar
1 egg
1 tsp. baking powder
1/2 tsp. baking soda
1/2 tsp. salt
1 tsp. cinnamon
1/2 tsp. nutmeg
1/4 - 1/2 tsp. cloves
1 tsp vanilla
Directions:
1. Preheat your cooking surface. We use an iron griddle that covers two burners. I spray it with Pam and let it slowly heat up. It should be a good temperature by the time you're done mixing things together.
2. First, melt your 2 tbsp. of butter in a large glass batter bowl,. Generally 25-30 seconds does it for me. Stir it with a whisk to further break down any clumps. Next, mix in the soured milk, applesauce and sugar until well blended. Mix in the egg until fully incorporated. Whisk all wet ingredients together until smooth.
3. In a small bowl, combine all of your dry ingredients. Whisk to incorporate baking soda and baking powder. Add dry ingredients to the wet and whisk until all the flour is absorbed. Allow the batter to sit for 2-3 minutes before making your pancakes. It helps to activate the leavening agents.
4. Pour scant 1/4 of batter on your cooking surface and cook until bubbles begin to form around the edge. Flip and cook for 30 seconds to a minute.
5. Enjoy hot with your favorite toppings!
What favorite pancake recipe do you have? Please share your pancake adventures in the comments below!