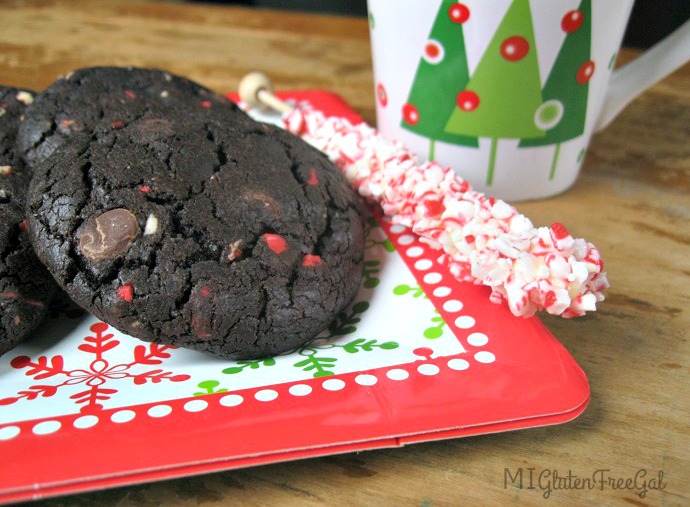 I originally wrote this post about gluten-free chocolate peppermint crunch cookies in 2013. Since then I've had time to update it and perfect it, and I wanted to be able to share it with you!
Towards the beginning of December our celiac support group has a gluten-free Christmas cookie exchange. I always think this is a great way to learn about recipes as well as have an assortment of cookies for upcoming holidays without having to make them all yourself!
After sampling Viola Fe's chocolate mint chip cookies, I wanted to try to make some gluten-free chocolate peppermint crunch cookies. I use
Andes Peppermint Crunch Baking Chips
. The best part about this product is that they are "produced in a facility that does not use peanut, tree nuts, eggs or gluten." I love products that are food allergy friendly!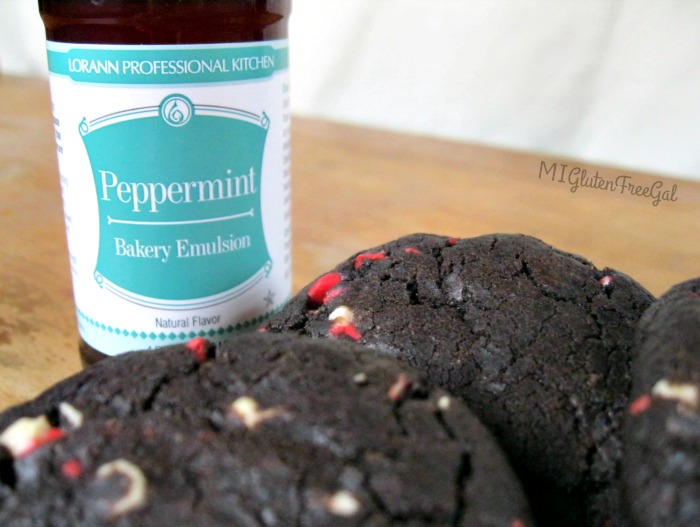 Since I first made these cookies, I've discovered LorAnn Oils. This recipe for gluten-free chocolate peppermint crunch cookies calls for vanilla extract. However, I feel that this recipe comes alive when it's substituted with LorAnn Oils Peppermint bakery emulsion. You could sample this straight from the bottle and enjoy it. I know because my husband tried it!
The original recipe for these cookies is not gluten-free. There are many gluten-free all purpose flours on the market, and I generally substitute whichever I have on hand. Each gluten-free flour blend has its own idiosyncrasies. This time when I made them I used Krusteaz gluten-free flour, which I find often requires a bit more liquid. You can use a bit of extra water as I did, but only do so a tablespoon at a time.
The recipe for gluten-free chocolate peppermint crunch cookies calls for 2 tablespoons instant coffee granules. The first time I made these cookies I used Taster's Choice single serve instant coffee packets. The box actually had a gluten-free label directly on the package! Most recently I have used Delallo espresso powder.
These gluten-free chocolate peppermint crunch cookies do not spread greatly. Use a large tablespoon, and roll the dough into a ball. Flatten slightly into a disk. Place on a cookie sheet on top of parchment paper. These cookies are delicious on there own, but are also great with a warm cup of hot chocolate. Either way, these gluten-free chocolate peppermint crunch cookies will quickly become a Christmas time favorite!
Gluten-Free Chocolate Peppermint Crunch Cookies
Ingredients:
1 c. unsalted butter
2 tbsp. instant coffee granules
2 c. plus 2 tbsp. all-purpose GF flour
3/4 c. baking cocoa
1/2 tsp. baking soda
1/2 tsp. salt
1 c. brown sugar, firmly packed
1/2 c. granulated sugar
2 large eggs, room temperature
1 tsp. LorAnn Oils Peppermint Emulsion
1 pkg. (10 oz.) Andes Peppermint Crunch Baking Chips
4 oz semi-sweet chocolate chunks
Directions:
Preheat oven to 350 degrees. In a small saucepan melt butter with coffee granules over low heat until completely dissolved. Remove pan from heat and let cool to about room temperature. (Confession - I do this in a microwave safe batter bowl and save myself from having to wash a pot!)
While that is cooling, sift together flour, cocoa, baking soda and salt in a bowl and set aside.
Beat butter mixture, sugar, brown sugar and vanilla in a large bowl. Beat at medium speed with an electric mixer until creamy. Beat in the eggs. Gradually beat in the flour mixture 1/3 at a time, beating at low speed just until blended. Stir in the Andes Peppermint Crunch Baking Chips and semi-sweet chips.
Drop rounded spoonfuls of dough 2 inches apart onto an ungreased or parchment lined baking sheet.
Bake for 10-12 minutes. Let rest on baking sheet for 1 minute then transfer to wire racks to cool completely.