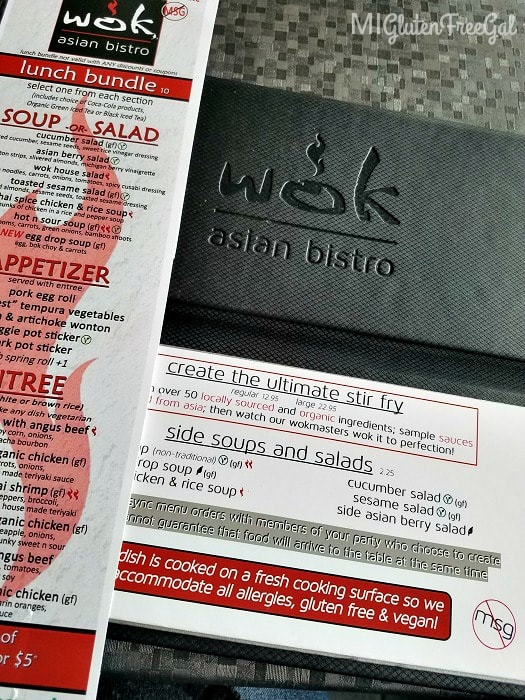 Wok Asian Bistro is nestled into downtown Northville, Michigan. Placed conveniently next to a large parking area, Wok Asian Bistro is the great starting point for an adventure in this small town. Don't let the small town setting fool you though. Chef Greg has years of culinary experience. Pair that with his restaurant management and food allergy knowledge, and prepare to enjoy a meal that rivals any high city eatery.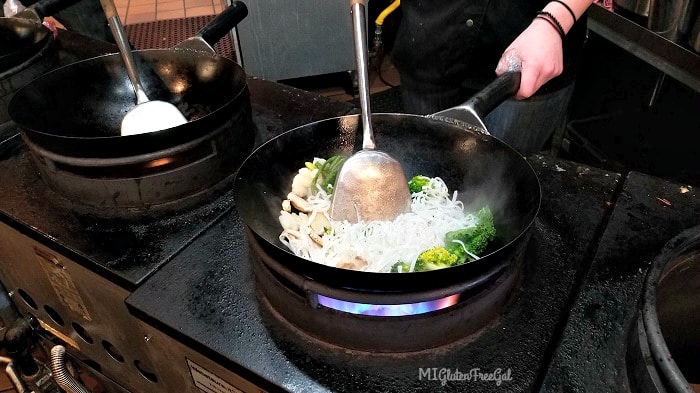 Wok Asian Bistro combines the option of creating your own dish or ordering off their menu. This restaurant has an advantage over other "hibachi style" eateries. Each dish is its own separate ticket and made in a clean pot. Using a fresh wok for each order prevents cross-contact with allergens, spice, and any animal products. Chef Greg explains to the back of house staff that thorough washing of woks is one of the most important jobs in the restaurant due to this. By this practice, they can accommodate food allergy orders, vegetarian/ vegan preference as well as religious/cultural restrictions.
Chef Greg made one major decision in his cooking that makes a difference to those with Celiac Disease.
Tamari
is used to prepare their dishes instead of soy sauce, which often contains wheat. Chef Greg made this decision after a friend accidentally ingested gluten at a different restaurant. He saw how awful she felt and how few precautions or accountability that restaurant felt. Therefore, Chef Greg decided then that he wanted to design a restaurant where everyone could eat. He mentioned that one family regularly dines at Wok Asian Bistro. Their four children all have various allergies and Wok Asian Bistro is the only place where they can successfully eat as a family. I appreciate that they have gluten-free appetizers like this edamame hummus.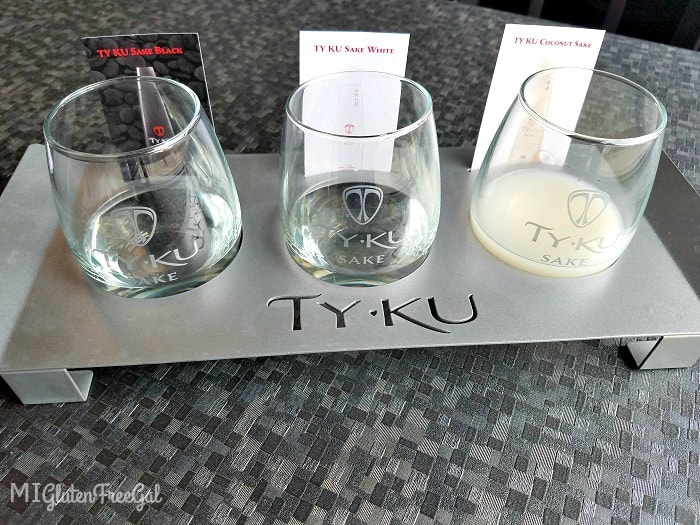 There are a variety of gluten-free alcohol choices at Wok Asian Bistro too. They serve a variety of
Tyku
sake. I've never tried sake before, so thought this was the perfect time to try it. I truly appreciated how thoroughly our waiter educated us on the different types of sake. My husband and I chose a sake flight to try. When the flight arrives, informational cards adorn the holder that better describes each type of sake. I'll admit sake was stronger than I like. Next time, I'll order a
JK Scrumpy's
. You can also enjoy
One Hope Wine
at Wok Asian Bistro. A portion of each bottle sold funds non-profits.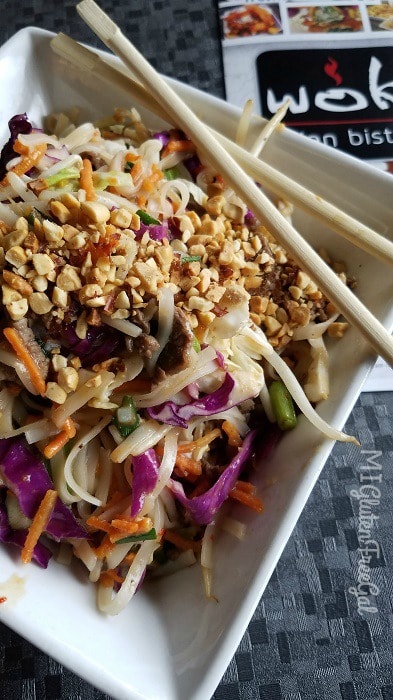 The waitstaff at Wok Asian Bistro impressed me as well. As soon as we sat down for lunch that day, our waiter immediately outlined all of the steps they take for those with food allergies. He explained that he ate a vegetarian diet, and he himself appreciated the care that was taken with his own meals. He also was excellent at suggesting dishes we might like based on our taste preferences. We made sure to tip him well since he took such good care of us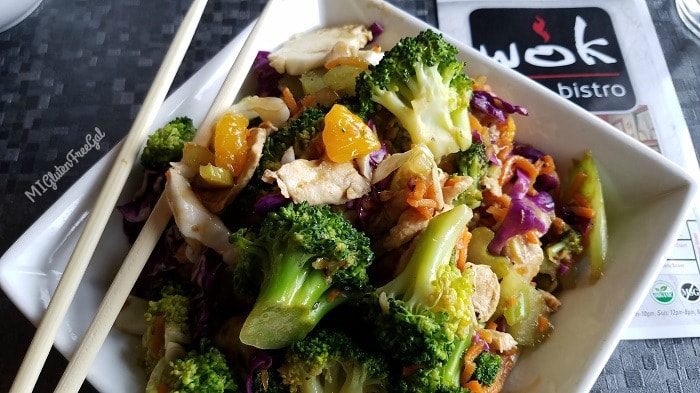 Customers can easily customize their dish at Wok Asian Bistro. Pick your preferred sauce, a protein and a starch/base. Or if you're watching your carb intake, have your meal over cabbage. My husband and I ordered two dishes to share: thai peanut with thinly sliced beef over gluten-free rice noodles and orange ginger chicken over cabbage. The vivid colors of the meal impressed me just as much as the flavor. Eating our meal truly was a treat for all the senses. Unlike other make-your-own Asian food joints, the lighting was muted and the noise level was pleasant. We enjoyed a beautiful view of the downtown pavilion, where musicians perform in summer months.
Wok Asian Bistro definitely gets my vote for a delicious gluten-free meal. Every one who has dined here has expressed rave reviews. Chef Greg believes more than just serving a good meal. One Monday a month he also offers
cooking classes
. (They are usually closed Monday nights.) Each month focuses on a different theme, includes samplings and recipes to take home to recreate. (Not all cooking classes are gluten-free.) You can also see him providing cooking tips on Fox 2 Detroit. Chef Greg is doing some amazing things here in Michigan. Hopefully you get a chance to experience his passion for cooking soon!
Wok Asian Bistro
144 Mary Alexander Ct
Northville, MI 48167
(248) 719-7622
Facbeook
|
Twitter
|
Instagram