With this month's box from American Gluten Free, Thanksgiving dinner is a snap! I was so excited to see multi-grain roll mix from Bella Gluten-Free. I love trying new things from this box. My husband said that the dinner I made with these items was delicious, and actually thanked me for spoiling him with such a wonderful meal. It really was a breeze with the items from the box!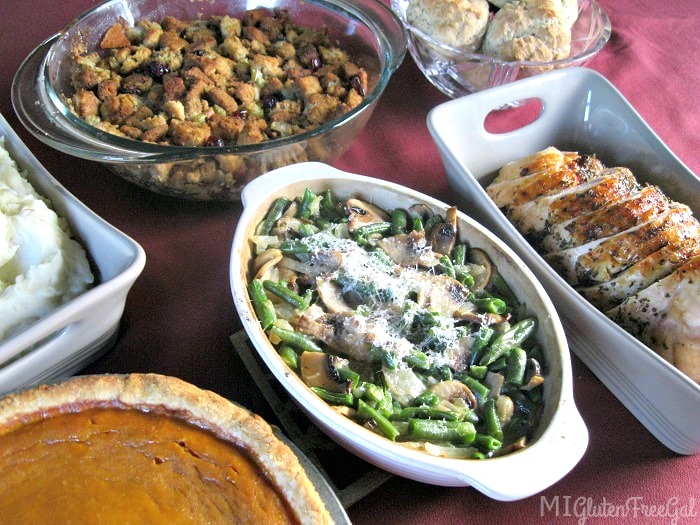 An all American Gluten Free Thanksgiving dinner wouldn't be complete without some of the standard dishes. Our full dinner spread included oven roasted Butterball turkey breast with gravy, green bean casserole, mashed potatoes, stuffing made with Olivia's Croutons, and Bella Gluten-Free rolls. Oh, and pumpkin pie made from scratch made with Inspiration mixes.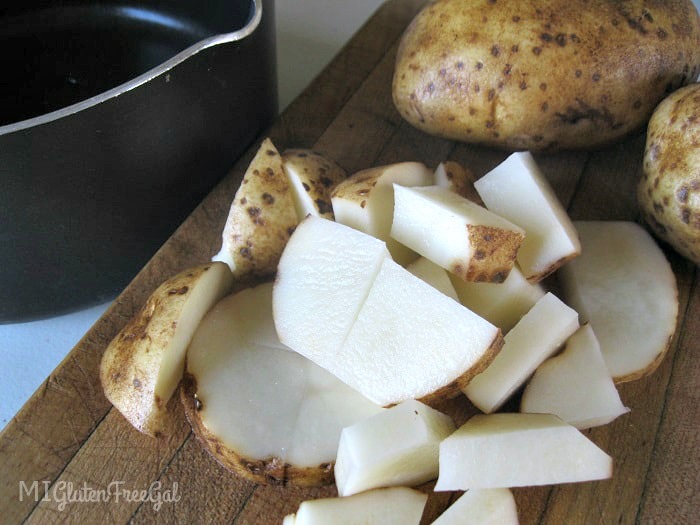 In my opinion, an American Gluten Free Thanksgiving dinner HAS to have mashed potatoes. As we recount what we are thankful for this Thanksgiving, I'm thankful that potatoes are naturally gluten-free. I can eat them mashed, french fried, and even waffled. I know I made more than I needed, but who doesn't love leftover mashed potatoes?Did you know you can waffle mashed potatoes?! True story! Check out this recipe for turning those leftovers into an amazing waffled sandwich.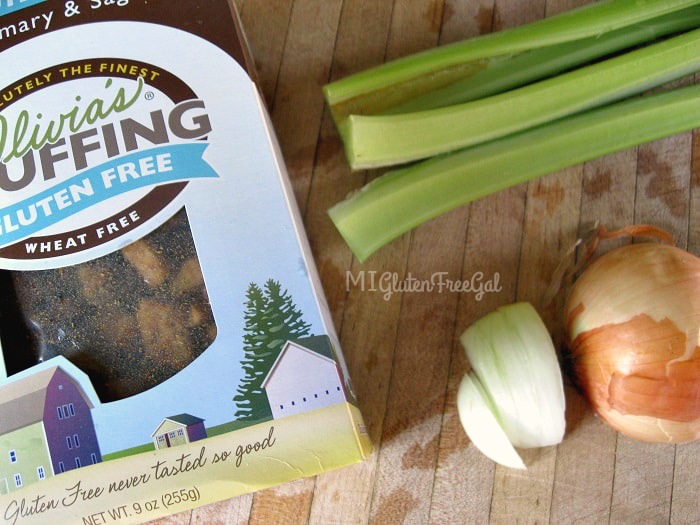 Stuffing. Dressing. I don't care what you call it, as long as this is on the dinner table. Stuffing is a must for my American Gluten Free Thanksgiving dinner table. This package from Olivia's croutons was super simple to throw together. I added more chicken broth than the recipe called for, and more water on top of that. I like a really moist stuffing. A few handfuls of dried cranberries were added as well to pump up the flavor profile. Delish!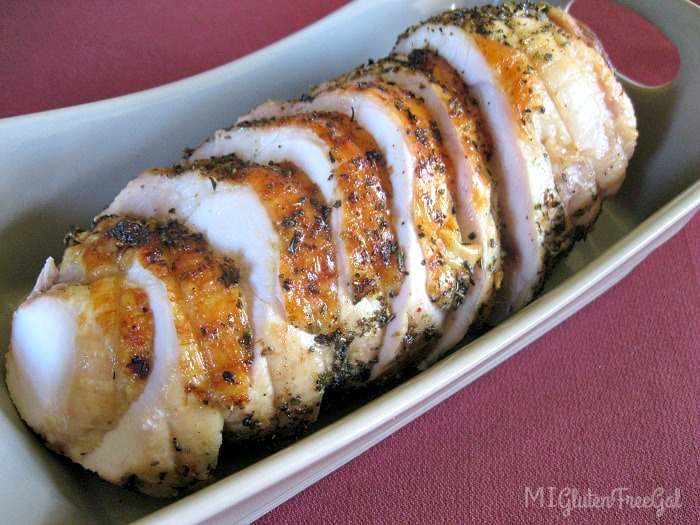 I'm so proud at how well this turkey breast turned out I could cry. I honestly sent a picture to a few friends after it came out of the oven. With the addition of the Urban Accents spice rub, it was AMAZING! While I did use the Simply Organics gravy mix mix that was in my American Gluten Free Thanksgiving box, I wanted to point out that the gravy packet with Butterball turkeys is naturally gluten-free. They switched the formula years ago after getting so many gluten-free questions. Score!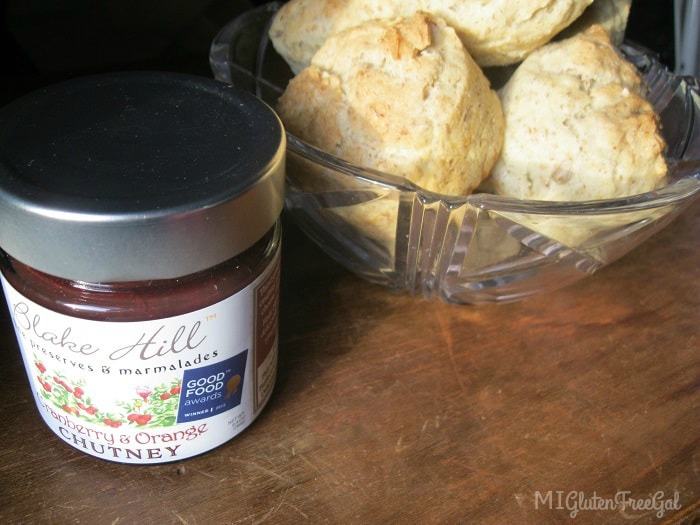 I was not a fan of cranberries as a child. There have been too many Thanksgiving dinners in which my grandmother opened a jar of gelatinous cranberry sauce and served the wiggly mass straight from the can. Not appetizing. I was so glad that this month's American Gluten Free Thanksgiving box included a more sophisticated means on consuming cranberries. This chutney, paired with goat cheese, was delicious on these yeast rolls from Bellla Gluten-Free.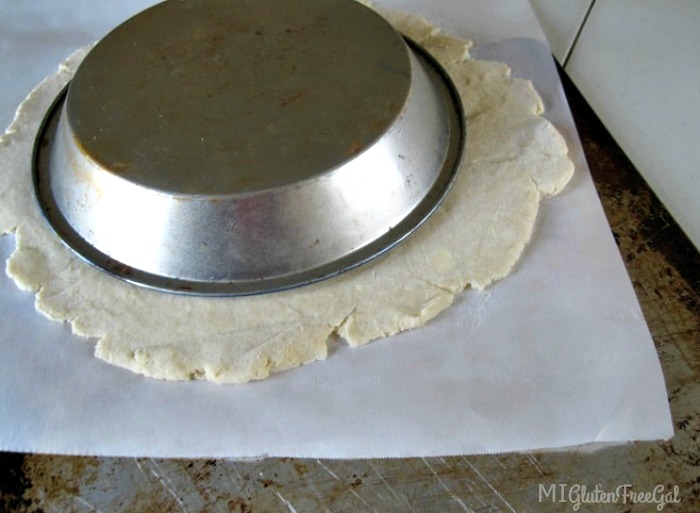 This is me making pie crust. From scratch. This is so much easier with flour mixes, like Inspiration Mixes that was in this month's American Gluten Free Thanksgiving box. I've learned some great tips on making pies from my friend Linda Fedewa. This step by step video is one of the best pie helps I've ever seen. First, freeze your butter and add it to the dry mix my grating it in. The warmth from your hands will melt the butter and allow it to work into the flour. Also, roll out your pie crust on parchment, and flip the pie pan upside down on top of the crust. Then use a flat cookie sheet or cake board to flip the whole thing over. Your crust will no longer break from trying to pick it up by hand and transport it!
Gratuitous Pumpkin Pie picture. Because the world needs more pie.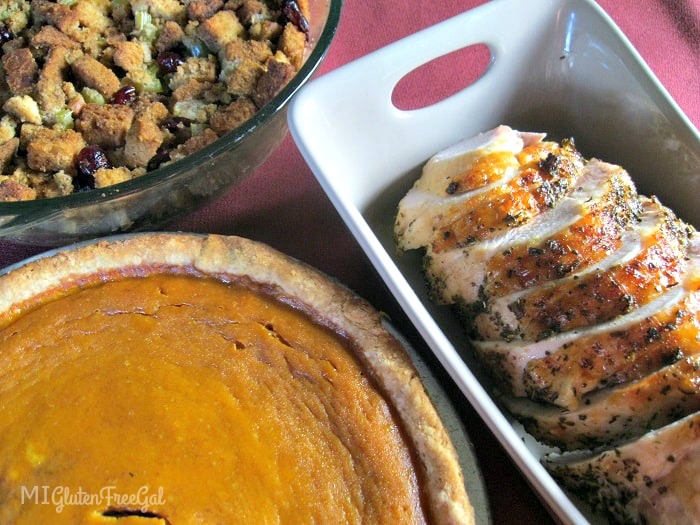 I'd say that this American Gluten Free Thanksgiving box was a huge success. Next month's box Foodie Meal box will include a ginger cookie mix, a red velvet cupcake mix, an Orly flour blend, silicone cupcake liners, sugar coated ginger, sprinkles, hot chocolate and a FRESH mini-load of bread by Meredith's Bread. Doesn't that sound AMAZING! Order one now by following the link below and you'll be baking for the holidays in no time!
Get in the kitchen with the American Gluten-Free gluten & dairy free Foodie Box!
What will be on your Thanksgiving table this year? What new product finds or new recipes will you be trying out this year? Leave me a note in the comments below!
**This page contains affiliate links.**