So when Friday rolls around and you're waking up from your Thanksgiving Day coma, you have a question to ask yourself. What are you going to DO with all of those leftovers? Sandwiches made from waffled gluten-free stuffing, that's what. Forget your traditional open faced turkey sandwich covered in gravy. This "wafflewich" made with waffled gluten-free stuffing turns the culinary dial to 11. Be prepared to have your mind blown.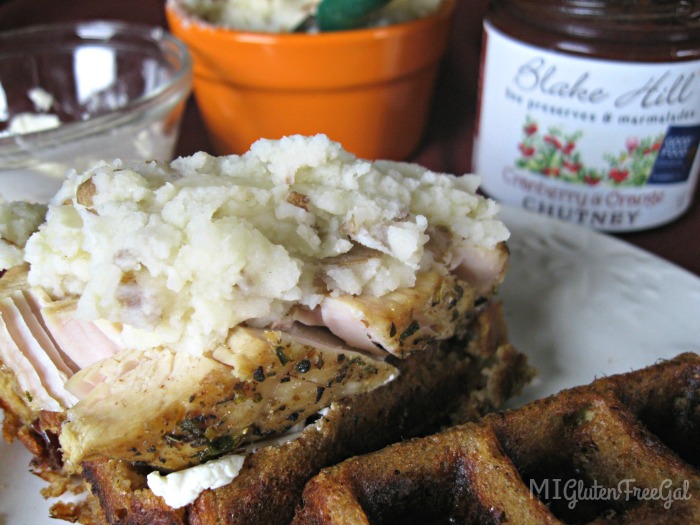 So how does one "waffle" stuffing?
It's very simple actually to make waffled gluten-free stuffing. Of course, I only know the answer because I "googled" it myself and did some research. It seems the ratio is 4 cups of stuffing to 2 eggs. I added some water, as my leftover stuffing was a bit dry. Don't add too much though, as it won't cook correctly if you do. I found that a cooking time of 10 minutes allowed for the outside crispness that I desired. I made my waffles in a Belgian waffle maker. I'm unsure of cooking times in a non-Belgian waffle maker.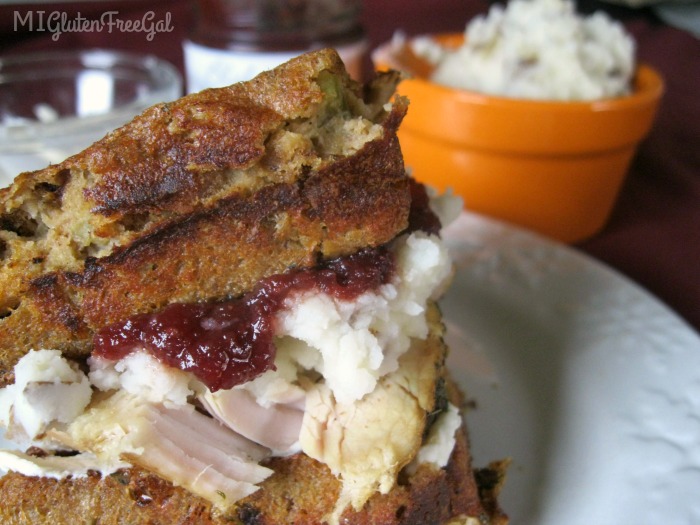 From there, making a "wafflewich" with your waffled gluten-free stuffing is a breeze. This is an excellent time to use leftover turkey, mashed potatoes and gravy. I prefer to use leftover cranberry sauce, like the one I received in my American Gluten-Free box. However, it you want to make this sandwich truly memorable, smother your waffled stuffing with goat cheese. You might not be able to see mine because it's topped with juicy chunks of turkey breast. But trust me, it's there. This is quite a mouthful, so you might want to attack this beauty with a fork and knife.
So how about you? What's your favorite way to use leftovers? What other creative ways have you used your waffle iron? Leave me a note in the comments!