Sometimes a re-purposed kitchen failure turns into an all-time favorite recipe. After my attempt at making ravioli with RP's fresh pasta had a rocky start, I created something better. This gluten-free butternut squash lasagna (which is perfect for Thanksgiving) has quickly become a house favorite. My husband would eat it every day if I could make it that fast. The best part of this recipe is that it's for two. Make this in your favorite loaf pan and you have a dish to share with someone you love. Or not. I won't blame you if you keep this all to yourself! (I tweaked some of the ingredient of this lasagna recipe for two from Chef Julie Yoon if you want to follow along. )
1. Roast your butternut squash and saute your meat and vegetables.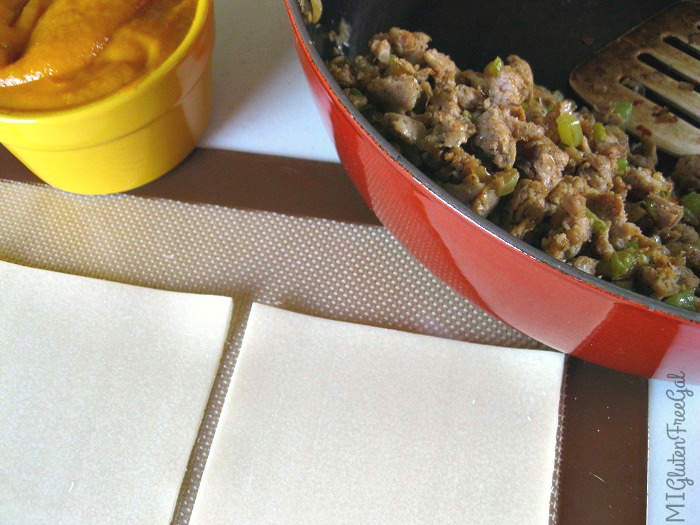 I LOVE butternut squash. Which is funny, because I hated it when I was a kid. Luckily at Thanksgiving butternut squash is ubiquitous and inexpensive. Purchase a fairly good sized butternut squash and roast it in the oven. For this gluten-free butternut squash lasagna, you will need to use only half of one squash. Once roasted, puree it in your food processor and set aside. You should have about a cup and a half to two cups. If it seems really thick and dense, you can add TWO tablespoons of chicken broth. This may not be necessary, as the squash has plenty of water in it already. To give it a Thanksgiving flavor, I add 1/2 tsp of sage and a 1/2 tsp of thyme.
Next, dice an onion and a few ribs of celery. Saute those in just a bit of butter. Once the onions are transparent, add in 8 ounces of your preferred meat. You can use leftover, cooked turkey. (I think the dark meat would work best.) I've used ground turkey as well as chicken sausage that had added sage and thyme. (If your meat doesn't already have these spices, add a 1/2 tsp of each to the meat mixture.) Make sure your meat is totally cooked through. Set aside and preheat your oven to 325 degrees.
2. Blend ricotta cheese, Parmesan cheese and an egg. Coat noodles with cheese mixture.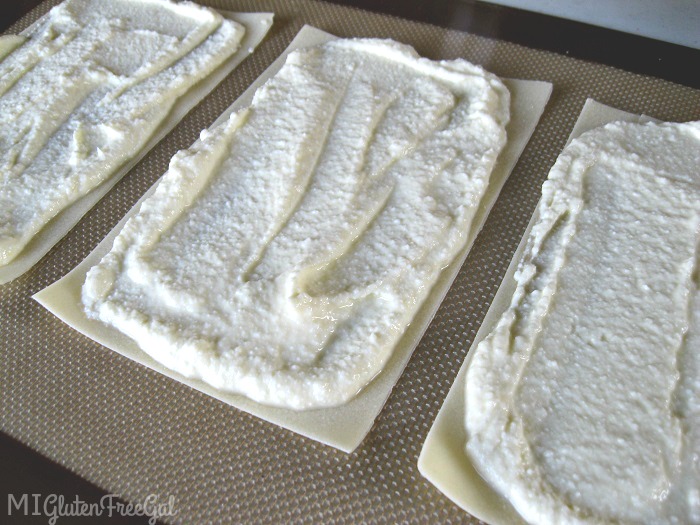 I read a really great idea. To aid in assembling your gluten-free butternut squash lasagna, lay out three of your four noodles on a flat surface. Then, separate your ricotta cheese mixture evenly between your noodles. Remember, since these RP lasagna sheets are fresh, there's NO need to boil them ahead of time. (If you do, you'll end up with a mess!) This recipe calls for one egg, 1/2 cup of ricotta and 1/2 cup of fresh grated Parmesan.
3. Assemble the layers of your gluten-free butternut squash lasagna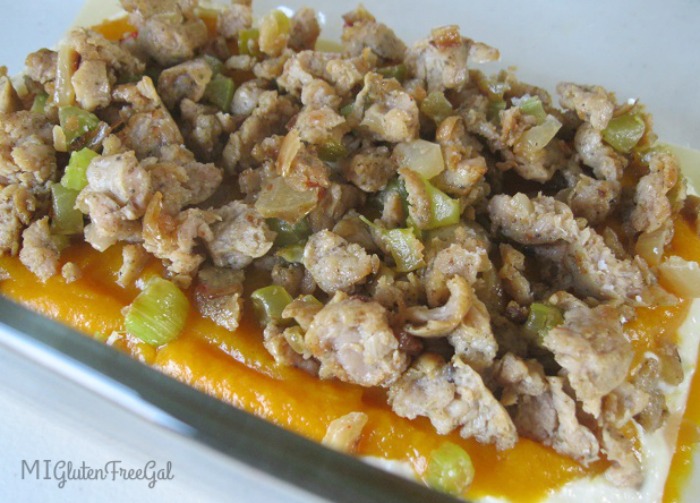 Before laying the first noodle in a loaf pan, coat the bottom of the pan with a bit of pureed butternut squash. I'd say about 1/4 of a cup. I tend to keep my squash and meat mixture separate, but you could combine them after this step if you'd like. Place on ricotta coated noodle on top of that first bit of sauce. Next I put a 1/4 cup of squash and 1/2 cup of the meat mixture. On top of that I add 1/4 cup of mozzarella cheese. Repeat the layering process with the other two noodles. Your gluten-free butternut squash lasagna for two will quickly take shape!
4. Sauce the last noodle and cheese it up!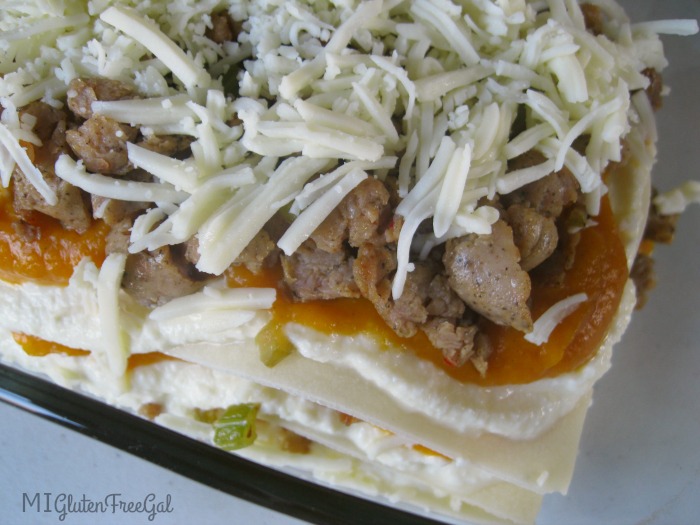 This is what your gluten-free butternut squash lasagna will look like before you place your last layer. At this point, I would mix the remaining meat you have with the last of your butternut squash. Add the last lasagna sheet and cover in sauce. Then add 1/4 cup of mozzarella cheese and some fresh grated Parmesan cheese. Spray a section of tinfoil with cooking spray. Cover the lasagna with tinfoil and cook for 45 minutes in your 325* heated oven. After 45 minutes, remove the foil and bake for 10 minutes more to brown the cheese. (Julie Yoon's recipe states 400 degrees for a shorter period of time, but I find the recipe works better at a lower temperature for longer.
5. Rest before serving. Both you and the lasagna.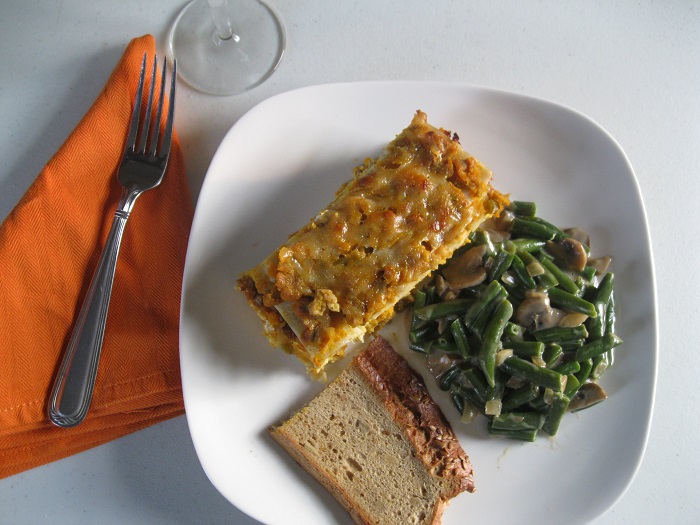 If your gluten-free butternut squash lasagna came out a bit watery looking around the edges, don't worry. Give it a good 10-15 minutes to rest and it will reabsorb that liquid. You'll have creamy, cheesy goodness in those pockets that you're going to want to devour. During that time you can saute up some (more) onions and mushrooms, add some green beans, and make an impromptu green bean casserole. If you want some sauce, I add Full Flavor Foods Cream sauce mix and it turns out divine!
6. Enjoy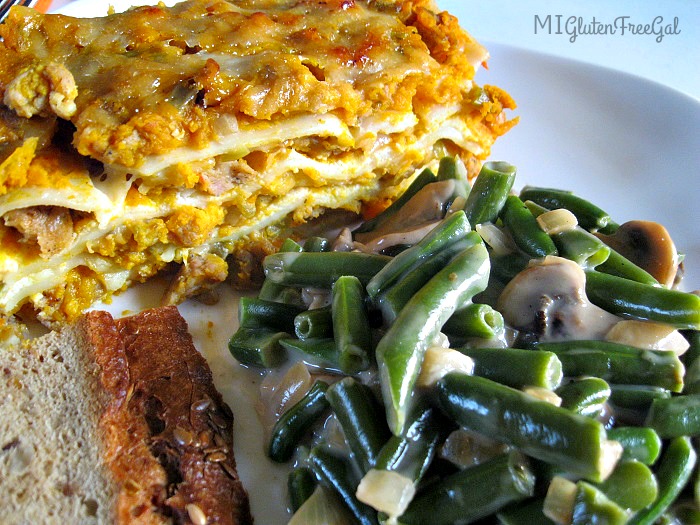 Even though this gluten-free butternut squash lasagna is meant for two, we often cut it into three slices. This way my husband can have leftovers in his lunch the next day. (And so I don't have leftovers around my waistline, am I right?) Because it's small, this is the perfect dish to take to a family gathering. That way if Aunt Bessie doesn't understand what gluten-free truly means, you can eat well, safely. Plus, then they can all stare at your amazing dinner while they eat boring traditional turkey and mashed potatoes. :)
What creative ways do you use Thanksgiving leftovers? Have you created an amazing gluten-free dish after fixing a recipe mishap? Leave me a note below and we can learn from each other!
**While I was given free product to try, I was not reimbursed for my time or thoughts. All opinions are my own.**